Global platform from material market application to industry manufacturing processing technology!
Materials industry includes: adhesive tapes and protective films, functional films, labels / foam / shielding / insulation, conductive / thermal / dust / shock / sound insulation materials, etc.
Processing technology equipment includes: feeding, coating, drying, coiling, laminating, rewinding, slitting, die cutting / cutting, flexible packaging and other related technical equipment.
◆ Adhesive tape: Adhesive tape products of various film, paper, cloth, foil and foam substrates, non-substrate double-sided adhesive tape, adhesive protective film, self-adhesive label (adhesive labels) and release materials.
◆ Protective film: PE, PET, OPP, PVC, BOPP, TPU film, anti-scratch / explosion-proof / anti-glare / anti-peep protection functional protective film, including self-adhesive protective film, electrostatic protective film and release film / paper and other accessories.
◆ Functional film: 1) Brightness film, diffusion film, reflective film, polarizing film, brightness enhancement composite film, light guide film and other optical grade film for backlight/display); 2) Photoelectric/screen film (optical protection) Membrane, hardened film / scratch-resistant film / anti-slip film / explosion-proof film / anti-glare film, ITO film, OCA optical glue, etc.); 3) film for flexible packaging (aluminized film, barrier film, high-bright film, printed film, etc.) ; 4) Intelligent window film / thermal film / automotive film (film) / dimming film / reflective film; 5) energy film (photovoltaic film / battery separator / water treatment film); 6) IMD decorative film, graphite heat conduction Other functional films such as film, insulating film, antistatic film, laser film, nano film, PC/PMMA film.
◆ Production equipment and instruments: various film and tape manufacturing processes, such as feeding, coating, drying, coiling, laminating, rewinding, slitting, die cutting, packaging and other related equipment. Including precision coating equipment, slitting machine, slitting machine, rewinding machine, laminating machine, automatic cutting table, cutting / die cutting equipment, laminating equipment, coiling equipment, mold, blade, film making equipment, molding machine , tension control device, correction system, static eliminator, roller, wire drawing machine, corona treatment, surface treatment equipment, coating drying equipment, UV curing equipment, cleaning, protection system, analysis / measurement / test equipment and related control Systems, related packaging and printing equipment.
◆ Materials and chemical products: adhesives, release agents, resins, silica gel, glue, solvents, waxes, hot melt adhesives, additives, inks and various auxiliary materials.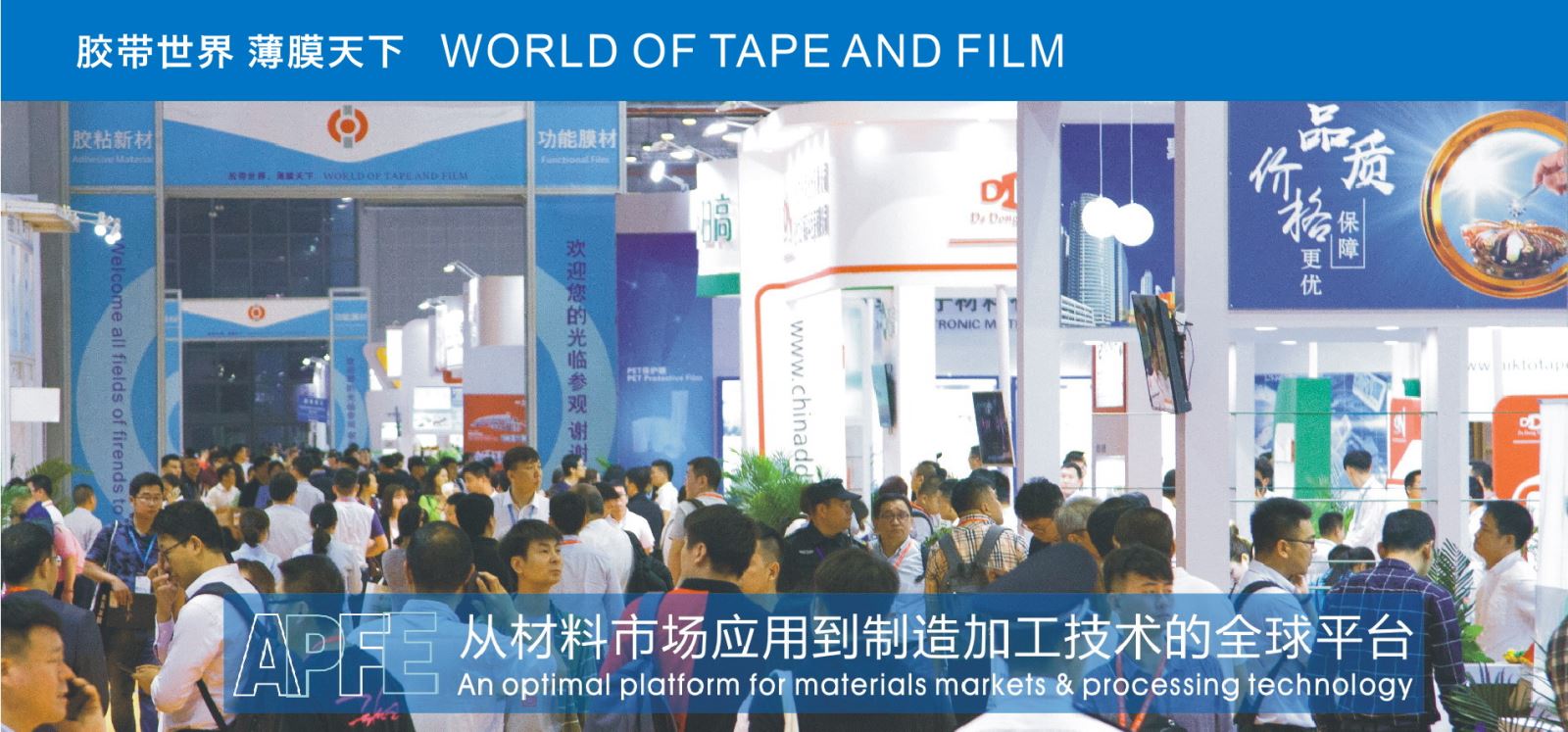 「APFE」the world's largest and influential international tape and film material processing industry annual event, presenting "new ideas, new technologies, new products and new solutions" of adhesive tape, protective film, functional film, foam, release film and adhesive label industry, 「APFE」collection exhibition, technical exchange, trade cooperation, brand promotion in a body, is the world's leading tape and film industry event, for the industry to bring a grand annual ceremony!