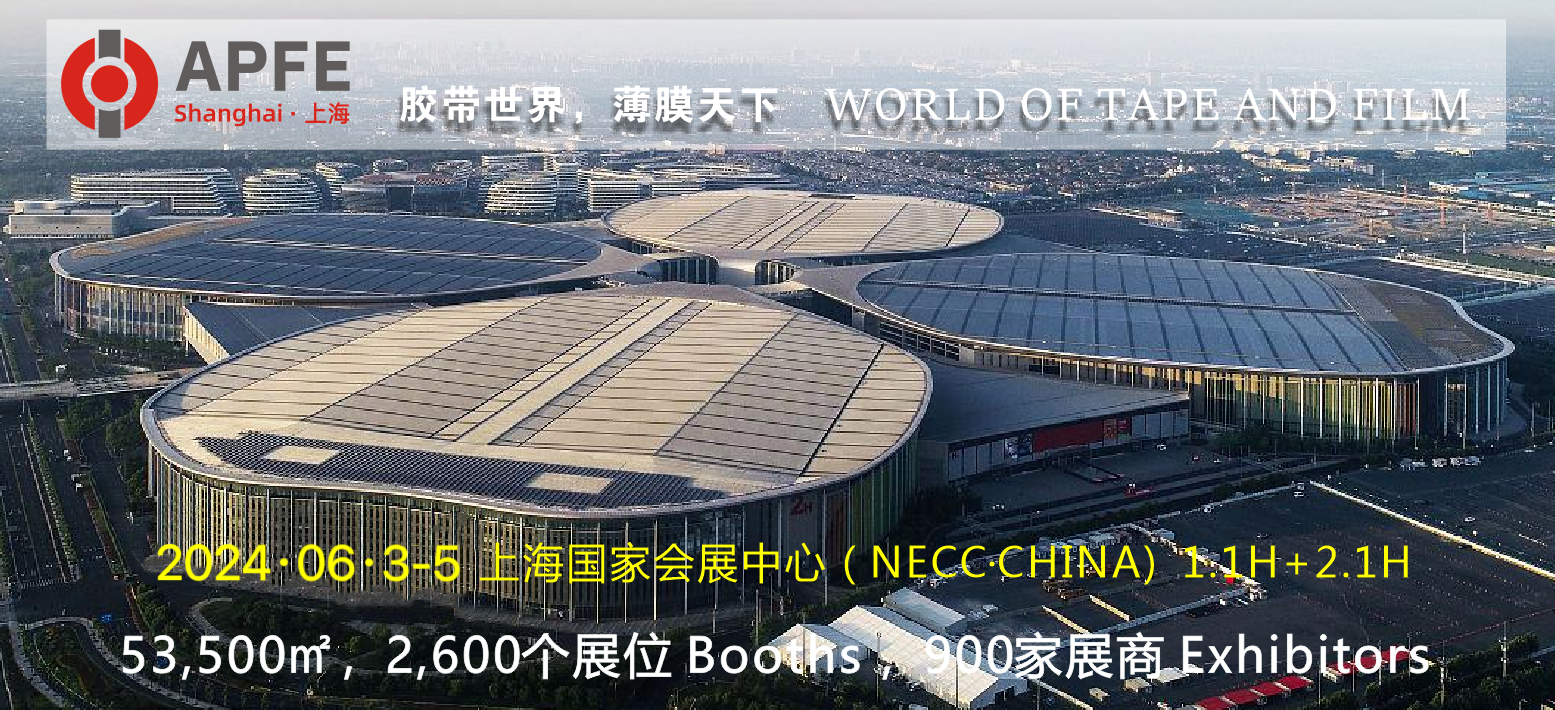 APFE 2024 - Bringing together world-renowned brands and bringing you into the wonderful world of material application and manufacturing and processing technology.
「APFE」is the world's premier tape and functional film industry event, which covers the industry's global innovative products and technologies, presents the latest products and technologies of international new adhesive materials and functional films in front of you. The material industry includes industrial tapes and protective film materials, optical-grade protective films and functional films, shielding insulating materials, electrical and thermal conductivity materials, dust-proof, shock-proof and sound-insulating materials, self-adhesive label materials, etc.; manufacturing technology and processing equipment involve slitting, coating Cloth, die-cutting/cutting, drying, coiling, laminating, rewinding, automatic cutting table, tension control device, knitting system, mold, blade, and analysis/measurement/testing equipment, cleaning system, etc.
「APFE」establishes an important communication platform for you in the industry to help you improve your competitive advantage in the industry, effectively identify new suppliers, collect the latest market information, find technical solutions and learn the latest technology.
More than 900 outstanding companies will make a concentrated appearance, showcasing thousands of applied materials and manufacturing and processing technologies.
• The overall industry chain of new adhesive materials and functional film materials is brilliantly presented.
In addition to adhesive new materials and functional films, the site will also cover self-adhesive label materials, shielding and insulating materials, conductive and thermally conductive materials, dust-proof, shock-proof and sound-proof materials, as well as die-cutting/cutting, anti-static, and precision coating. , test and measurement, substrates and chemicals.
• New products, new technologies and new processes are released first in Asia.
Many well-known manufacturers will release new models and upgraded products on the spot, and the purchase evaluation is more direct and effective.
• An excellent platform for industry professionals to communicate.
A great platform for high-quality industry professionals to meet. Whether it is friends or customers in the upper and lower supply chain, more than 30,000 industry professionals will gather at the scene to share the best practices in the industry and discuss the hottest issues in the industry. .
• Comprehensive understanding and update of industry knowledge, skills and market information.
Various forms of industry forums, technical exchanges and other activities were carried out at the same time to enhance their own competitive advantages and keep abreast of the development of the industry market.